things i like:
-lemmings (the video game)
-tattletail
-undertale music
-transformice
-memes
-porygon (not as crazy about it as i used to be though)
-fnaf songs
-sr pelo videos
-henlo lem
-helllo you STINKY LEMMING
-go build a bridge ugly
c00l pe0ple:




GRAND DAD?!
fLEENSTONES?!
Awhhh. Grand dad.
gRAND DAD???
wHAT THE FUCK?!?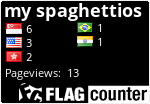 when waa hoo opened a door after climbing a long mountain in his house, another mountain spread before him, he said: WAAAAA HOOOOO and he heard a voice call for silece: "SHUT THE FUCK UP!"